SharePoint Solutions
Microsoft SharePoint provides a collaboration platform for the Enterprise and the Web that enables people to empower and collaborate through an integrated set of rich features. Microsoft SharePoint technologies provide a Web-based framework for team collaboration and real-time document management.
At Maxary, we enrich your collaboration with Microsoft SharePoint (MOSS)
Office SharePoint Server 2007 provides enterprise-scale capabilities to meet business-critical needs, such as managing content and business processes, simplifying how people find and share information across teams, and enabling better-informed decisions. Office SharePoint Server 2007 is a server/service based technology that delivers rich application functionality through a browser.
Office SharePoint Server 2007 is tightly integrated with familiar client desktop applications, e-mail, and Web browsers to provide a consistent user experience that simplifies how people interact with content, processes, and business data in a way that helps them conduct day-to-day tasks more effectively.
Office SharePoint Server 2007 is built on an open, scalable architecture that supports Web services and interoperability standards including XML and Simple Object Access Protocol (SOAP). The server has rich, open application programming interfaces (APIs) and event handlers for lists and documents. These features provide integration with existing systems and the flexibility to incorporate any new systems, which allows you to extend the platform to meet your unique business requirements.
At Maxary, we take you along the journey for the world class Enterprise Content Management that you desire.
The ability to plan, design, deploy, and utilize an effective SharePoint solution for your organization is essential to keep pace with the competition.
The various versions of SharePoint currently attracting the market space is the Microsoft Office.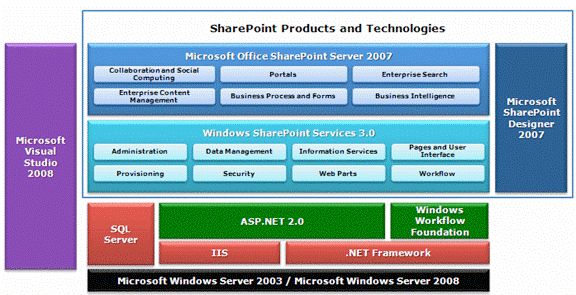 It's a win with Microsoft SharePoint MOSS 2007
SharePoint is a scalable document management solutio, that promotes greater transparency and quicker reaction, as well as rapid access to information. The main characteristic of SharePoint is its ability for employees to stay in touch with projects. The capabilities of SharePoint will allow you to go back in time, so to speak, and see the state of a project at that time. SharePoint's robust searching capabilities will considerably reduce the amount of search time by your employees.
Success lies in the underlying architecture
The SharePoint architecture relies on the Microsoft .NET frameworks, and every component in SharePoint is built over it.
The SharePoint portal can be used as a Publishing Portal (e.g. the company's internet), or a Collaboration Portal (e.g. the company's intranet).
The SharePoint architecture can be broadly categorized into Application Services, platform services, and Operating System Services.
All the components under MOSS will fall into the Application services. The components under the Windows SharePoint Services and the underlying components such as IIS, .Net frameworks, WWF, windows server, and SQL server will fall under the Operating System Services.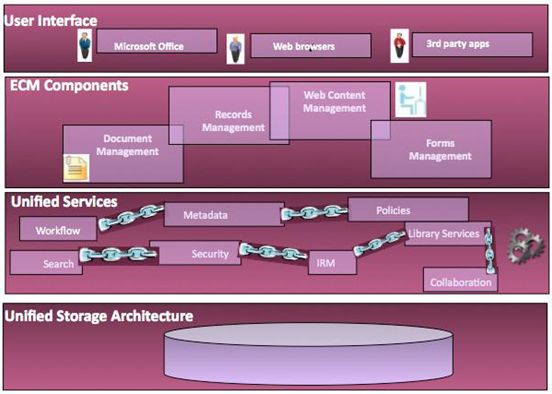 Managing Content (ECM) with SharePoint
SharePoint provides good integration between the ECM and collaboration platform. The content management feature in SharePoint encompasses document management, record management, and also the web content management. SharePoint builds on the core document management functionality provided by Windows SharePoint Services 3.0, including check-in and check-out, versioning, metadata, and role-based granular access controls.
SharePoint manages and controls content like MS Word, PDF, email, and web pages, and helps the organization to streamline business processes. This collaboration and content management server provides IT professionals and developers with the platform and tools they need for server administration, application extensibility, and interoperability.
How Maxary Manages ECM for you with SharePoint
The goal of Enterprise Content Management (ECM) is to bring all of an organization's unstructured information into a single managed environment where this information can be collaborated on amongst colleagues. We at Maxary help you in achieving a comprehensive solution for managing the enterprise content using Microsoft SharePoint. Our experts will analyze and understand the content management taxonomy of your organization.
We determine the skeleton structure, including the major groupings and associations of the SharePoint site hierarchy. We help you in obtaining an affordable, platform-based solution for managing your company's unstructured content right within SharePoint for searching, viewing, securing, routing, and annotating your company's mission-critical electronic content. We always go by our guiding philosophy in the discovery of underlying patterns in nature and applying it to create next generation business process models.
Prevailing Risks to existing SharePoint
The SharePoint portals are a more strategic and more valuable asset, one that should be managed and secured. Everyday, employees and others are accessing your SharePoint site, and the users are adding information from customer data to intellectual property including company's sensitive information. So, the organizations are constantly trying to strike the balance between collaboration and enforcing consistent enterprise policy as it relates to sensitive information. This dynamic may result in the inability to audit and assure security to data.
Another risk in the current SharePoint solution is the performance of the system, as the number of users accessing the system increases day-by-day. Due to lack of careful planning and problems in the implementation and governance, the performance of the system will not be up to the mark. We at Maxary use our expertise to overcome all the risks in SharePoint and provide the best solutions available.
Maxary's experts will go the extra mile in providing you with best-in-class user experience, using their expertise in:
Designing and configuring the new SharePoint environment
Migrating SPS2003 to MOSS2007
Migrating MOSS2007 to SharePoint 2010
Customization to cater the business needs
Developing solutions to use the out of the box features
Stabilizing the current SharePoint environment
Designing the Governance models for Corporate
Creating BI solutions such as info path forms and Excel charting services
Developing customized solutions for collaborations and content management
To learn more about Maxary's SharePoint services, contact us today.